Who We Are
Industrial Floor Systems has been one of Canada's largest flooring contractors serving the commercial and industrial markets for decades. Industrial Floor Systems specializes in mid to large sized projects throughout Canada utilizing industry leading processes, equipment, and personnel. Industrial Floor Systems consistently demonstrates the ability to provide a comprehensive range of high-quality services that makes IFS the versatile contractor for all your floor polish, coatings, installation, and repair needs.
Industrial Floor Systems', for decades, has provided a constant commitment to excellence; demonstrated through the consistent execution of services on budget and on time with the same dedication and passion since the company's start.
Industrial Floor Systems provides top quality floors for your budget and timeline.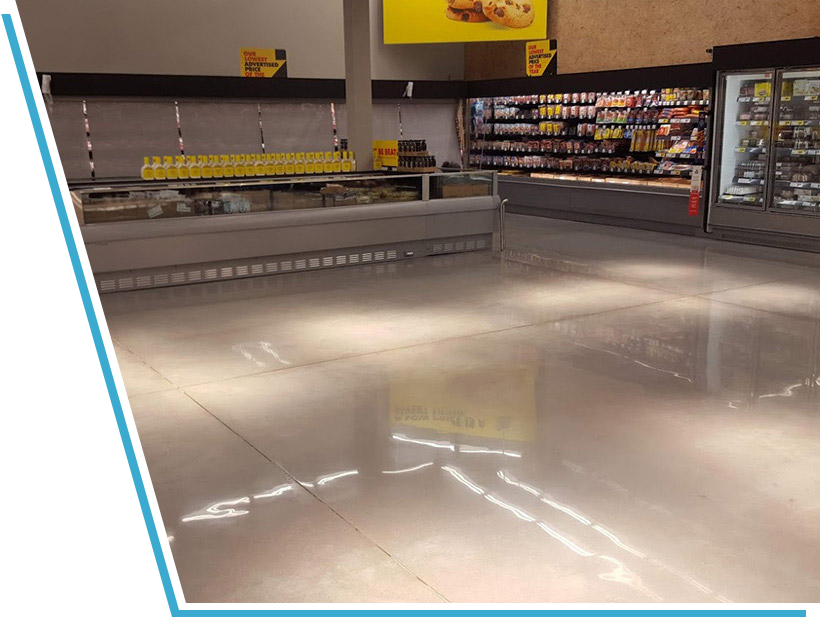 What We Do
Our team of skilled industrial flooring professionals utilize innovative technology, products, and processes to provide industry leading service across all markets. Our team has the knowledge and experience to consistently deliver first class flooring systems for any client needs.
IFS will work with you:
We pride ourselves in our ability to be a part of the successful execution of our clients' projects. IFS applies a solution-based approach that focuses on communication and teamwork with our clients. We are committed to overcoming any obstacle; be it scheduling delays, time constraints, budget, etc., to ensure our clients have peace of mind when hiring our team. IFS will work with you throughout every step of your project; from bid to completion, to ensure that a high-quality finish and a positive experience, is delivered.
National Program Rollouts:

Retail national programs can be extremely challenging regarding timelines and budget. As one of the only NATIONWIDE contractors, Industrial Floor Systems have the manpower and experience to complete national rollouts for all our clients. IFS is the industry leader in the ability to deploy and perform services on a limited timeline. Due to our multiple locations across Canada, IFS also have the unique advantage of keeping cost minimal for our clients. Leveraging personnel, equipment, and high-level coordination with multiple offices throughout the country, IFS has successfully implemented rollouts as large as 38 locations over a 3-week timeline. IFS is proud to be the provider of choice for multiple location rollouts across the country.

Working in Operational Spaces:

IFS is experienced in handling the challenges associated with the installation of flooring finishes in an operational space. Our products are low to no VOC and our work scopes are coordinated with facility management or client contractor. IFS strives to ensure that both staff and customer experiences are impacted as little as possible; we are willing to work outside of operational hours as required.
What People are Saying
Kind words from some of our valued customers
Once a decision was made to coat intumescent paint on the exposed structural steel Central Painting was able to organize their work forces and mobilize on site within days of being awarded the project and was able to work flexible hours and schedules to get the project completed as quickly as possible. The coating application was successful, the client was pleased at the outcome and the work was completed in a timely manner. I would definitely recommend and use Central Painting on future projects, it was a pleasure working with you. Paul S. Juras
Site Superintendent, Graham
Central Painting were a valuable member of our team that successfully completed a very challenging project for the University of Regina College Ave. Campus Revitalization. The project included renovation and restoration of the original 106-year-old College Building and a 50,000 sq. f.t addition that incorporated the original front façade of the four-story Conservatory Building. We had a very challenging schedule and their site foreman worked with us to make sure we completed the required areas in a timely manner despite the constant sequencing challenges. Dean Tanner
Project Manager, Ledcor Group
I've worked with Central Painting on multiple projects over the past 15 years. The quality of work and customer service they provide are always at industry-leading levels. Their team ensures a smooth project from start to finish and they stand behind their work! Alistair Dunbar
GSC Sr Project Manager, StuCor Construction Ltd
We have worked with Central Painting for over 20 years on multiple projects. The workmanship and service is always outstanding. The employees are knowledgeable and professional. Central Painting's Team is consistent and reliable especially under difficult circumstances and demanding schedules from the day they arrive on site until completion. Joe Lazzaro
President, Dannic Construction Limitedstrong>
We've been fortunate over the last 20 years to have had the expertise and professionalism provided by Central Painting on many of our jobsites. Fast paced, multi phased renovations and new builds are quite difficult at the best of times but their consistent commitment to our projects has always been paramount in our success. Working within the constraints of tight timelines and the forever increasing safety standards has never been an issue for Central and they've managed to do so while maintaining a high standard in the finished product. André Hébert
Sr Project Manager, StuCor Construction Ltd.
Ontario Office
761 Bayview Drive, Unit A
Barrie, ON L4N 9A5
(705) 726-7140
London/Cambridge
(519) 913-5419
Saskatchewan
(306) 992-4412
Edmonton
17872 106th Avenue, Unit 101
Edmonton T5S 1V4
(780) 628-1853
Calgary
(403) 770-3042
Vancouver
1546 Derwent Way, Unit 209B
Delta, BC V3M 6M4
(778) 785-4128