Who We Are
Industrial Floor Systems has been one of Canada's largest flooring contractors serving the commercial and industrial markets for decades. Industrial Floor Systems specializes in mid to large sized projects throughout Canada utilizing industry leading processes, equipment, and personnel. Industrial Floor Systems consistently demonstrates the ability to provide a comprehensive range of high-quality services that makes IFS the versatile contractor for all your floor polish, coatings, installation, and repair needs.
Industrial Floor Systems', for decades, has provided a constant commitment to excellence; demonstrated through the consistent execution of services on budget and on time with the same dedication and passion since the company's start.
Industrial Floor Systems provides top quality floors for your budget and timeline.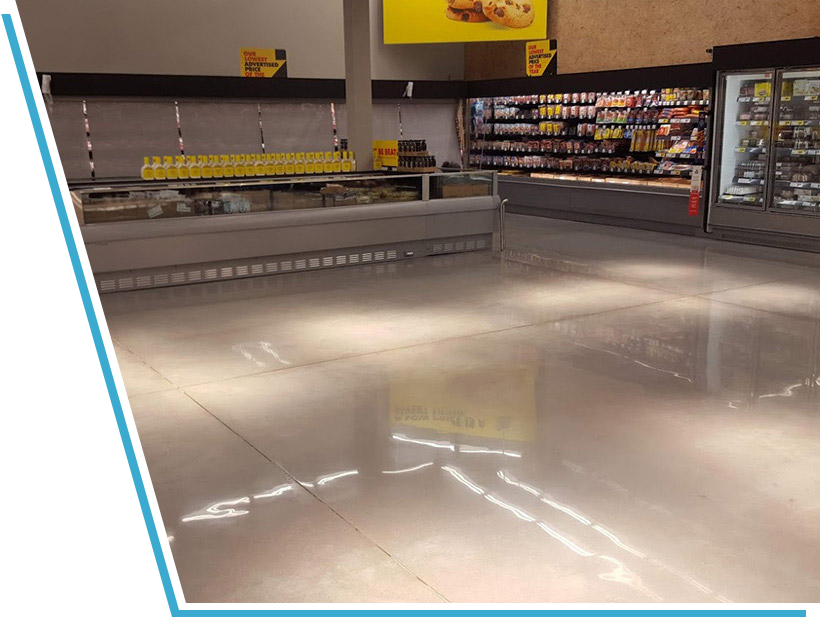 What We Do
Our team of skilled industrial flooring professionals utilize innovative technology, products, and processes to provide industry leading service across all markets. Our team has the knowledge and experience to consistently deliver first class flooring systems for any client needs.
IFS will work with you:
We pride ourselves in our ability to be a part of the successful execution of our clients' projects. IFS applies a solution-based approach that focuses on communication and teamwork with our clients. We are committed to overcoming any obstacle; be it scheduling delays, time constraints, budget, etc., to ensure our clients have peace of mind when hiring our team. IFS will work with you throughout every step of your project; from bid to completion, to ensure that a high-quality finish and a positive experience, is delivered.
National Program Rollouts:

Retail national programs can be extremely challenging regarding timelines and budget. As one of the only NATIONWIDE contractors, Industrial Floor Systems have the manpower and experience to complete national rollouts for all our clients. IFS is the industry leader in the ability to deploy and perform services on a limited timeline. Due to our multiple locations across Canada, IFS also have the unique advantage of keeping cost minimal for our clients. Leveraging personnel, equipment, and high-level coordination with multiple offices throughout the country, IFS has successfully implemented rollouts as large as 38 locations over a 3-week timeline. IFS is proud to be the provider of choice for multiple location rollouts across the country.

Working in Operational Spaces:

IFS is experienced in handling the challenges associated with the installation of flooring finishes in an operational space. Our products are low to no VOC and our work scopes are coordinated with facility management or client contractor. IFS strives to ensure that both staff and customer experiences are impacted as little as possible; we are willing to work outside of operational hours as required.
Ontario Office
761 Bayview Drive, Unit A
Barrie, ON L4N 9A5
(705) 726-7140
London/Cambridge
(519) 913-5419
Saskatchewan
(306) 992-4412
Edmonton
17872 106th Avenue, Unit 101
Edmonton T5S 1V4
(780) 628-1853
Calgary
(403) 770-3042
Vancouver
1546 Derwent Way, Unit 209B
Delta, BC V3M 6M4
(778) 785-4128